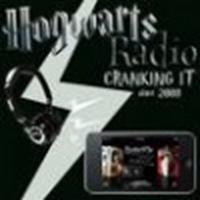 Hogwarts Radio
Hogwarts Radio #68: The One With Cameos and Quaffle-Shaped Scars
October 15, 2010 at 3:11 PM ET
Jeremy HPANA (via Hogwarts Radio)

Hogwarts Radio, HPANA, podcast, Harry Potter,
---
That's right, Hogwarts Radio is back for its second episode in three days! Join us as we return to "Into the Pensieve," discuss brand new Harry Potter news, and much more!
Hosts: Terrance Pinkston, Jr., Jeremy Baril, Mary Terzian.
- Two episodes one day apart? What is going ON?!
- The voices in your head: Terrance, Jeremy, and Mary are here for Episode 68!
- New banners! Voldemort vs. Seven Potters and Dobby.
- The Dobby one sheet blows our socks off! (no pun intended)
- Is Dobby considered comedic relief? How will audiences react to his death?
- Order of the Phoenix, and Half Blood Prince being converted to blu-ray 3D.
- Worldwide release dates for Deathly Hallows Part 1!
- J.K. Rowling considered most influential woman in Britain.
- Hogwarts Radio T-Shirts to be shipped in less than 4 weeks!
- Eric makes a special appearance and tells you why you should vote for us on Podcast Alley!
- We go Into the Pensieve for Chapters 17 and 18 of Deathly Hallows!
- Wrong Answer Game tells us how Harry REALLY got his scar.
- Magical Memories help us close out this episode!
Podcast: Play in new window | Download (Duration: 1:07:26 — 31.1MB)
Hogwarts Radio #69 is scheduled to be released October 21st.