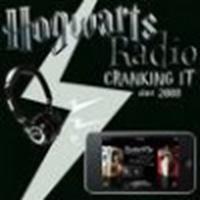 Hogwarts Radio
Hogwarts Radio #67: The One with Mufasa
October 14, 2010 at 2:10 AM ET
Jeremy HPANA (via Hogwarts Radio)

Hogwarts Radio, HPANA, podcast, Harry Potter,
---
We're back this week with the 67th edition of Hogwarts Radio. We discuss everything from the new posters recently released, to the rating, patronus's, Dumbledore, Sir Nicolas, Magical Memories, and oh so much more!
Hosts: Terrance Pinkston Jr., Eric Scull, Jeremy Baril, Becca Schroeder, Mary Terzian.
- Episode 67 is ALMOST 100 says Eric!
- Apologies for our absence from the airwaves, but we are back for another discussion of all things Potter!
- Deathly Hallows Part One is Rated PG-13 which makes us happy.
- No 3-D for DH Part One. Do we really care? Does Warner Bros expect to lose revenue from this move?
- We are currently #6 on Podcast Alley! Don't forget to vote for us!


- The Whomping Willows are beginning their fall tour for an amazing cause!
- We get down and dirty for Patronus's.
- The series leaves holes for us to figure out other people's patronus.
- Our listeners get in on the fun as we utilize our twitter.
- Which Patronus really resonated with us?
- Fred and George kick off our Lion King references in this episode. Would they be hyena's or Chip and Dale from the Rescue Rangers?
- Tell me lies talks "Saint Nicolas" according to Eric.
- Which one of us isn't the "sharpest cheese in the fridge?"
- Magical Memories close out this week's episode.
Podcast: Play in new window | Download (Duration: 1:53:06 — 52.0MB)
Hogwarts Radio #68 is scheduled to be released October 15th.