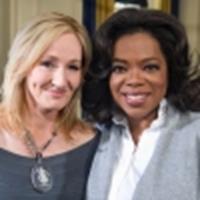 JKR and Oprah
Rowling won't rule out new 'Potter' book
October 1, 2010 at 1:50 PM ET
Cheeser HPANA (via Associated Press)

jk rowling, oprah winfrey, new harry potter books
---
Author JK Rowling told

Oprah Winfrey her extreme fame at the heights of the Harry Potter phenomenon was "like being a Beatle" and for a time she "was barely hanging on by a thread," in an interview airing today in the U.S.
Rowling also admitted she "could definitely" write new stories featuring the beloved characters from her seven bestselling novels.
"I'm not going to say I won't," she said, but pointed out she had moved on for now.
Check your local listings to catch the interview, taped at the Balmoral Hotel in Edinburgh, on today's Oprah

broadcast.