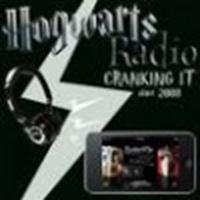 Hogwarts Radio
Hogwarts Radio #59: The One With Ron's Chicken Wings
August 25, 2010 at 3:19 PM ET
Jeremy HPANA (via Hogwarts Radio)

Hogwarts Radio, HPANA, podcast, Harry Potter,
---
We invite you to join us for yet another great episode of Hogwarts Radio as we go "Into the Mirror" to discuss Ronald Weasley, as well as the latest news and updates from the Harry Potter world.
Guests: Terrance Pinkston, Jr., Jeremy Baril, Becca Schroeder, Eric Scull, Mary Terzian, and guest Ivonne Schlebach.
-Another edition of Hogwarts Radio is now available! WOOOO-HOOOO!
- We have a guest in studio with Terrance! Ivonne Schlebach joins us this episode!
- Forbidden Journey hits one million riders! Jeremy enlightens the rest of us on the math.
- New high-res photo of the trio entering Grimmauld place. We talk about this picture versus the first one we received for DH.
- We are still accepting pre-orders for Hogwarts Radio t-shirts!
- Our forums are now up! Sign up by clicking forums at the top of our site and the register button!
- Transcript update from Shannon, expect episodes one and two soon!
- Hogwarts Radio is teaming up with BLOCKBUSTER Total Access!
- Eric's redbox pride gets hurt, and Mary doesn't understand Miley Cyrus's face.
- Into the Mirror discusses Ron and what his deepest desires are compared to the qualities of his character.
- We agree he obviously felt shadowed by his brothers and wanted to stand out & have some fame. How long would he be seeing this same image?
- How does Ron's friendship with Harry impact his deepest desire?
- Does Harry replace Ron's brothers as the person who shadows him the most? Does Ron want to be like Harry?
- At what point did he begin seeing Hermione as one of his desires?
- Tell me lies talks about why Aberforth would make a great deatheater.
- Yes, the goats get brought back into our reasoning.
- Wrong Answer game: Wrackspurts, Dumbledore's fame, the Hogwarts Express, Hedwig and much more!
- Eric tells us why Pinocchio should be rated R.
Podcast: Play in new window | Download (Duration: 1:17:08 — 35.6MB)
Hogwarts Radio #60 is scheduled to be released August 31.