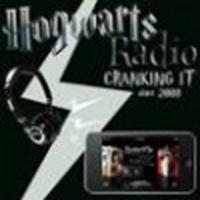 Hogwarts Radio
Hogwarts Radio #55: The One with Ariel's Sea Shells
August 3, 2010 at 7:49 PM ET
Jeremy HPANA (via Hogwarts Radio)

Hogwarts Radio, HPANA, podcast, Harry Potter,
---
We present for you Episode 55 of Hogwarts Radio, in which we go "Into the Pensieve" for Deathly Hallow, play a few games and much more!
Hosts: Terrance Pinkston, Jr., Greyson Smith, Becca Schroeder, Mary Terzian.
- It's another EXCITING episode of Hogwarts Radio! Come and join us as we celebrate our 2nd birthday!
- Terrance and Greyson start out the show by confusing the heck out of our listeners.
- WE HAVE A NEW HOST! Mary Terzian makes her debut on Hogwarts Radio.
- We also catch up on the past few week's news stories, and discuss the new image found online of Deathly Hallows.
- Into the Pensieve discusses Lupin scenes at Grimmauld place as well as the -what we can expect to see from the Ministry scenes.
- Will Lupin's visit be included? Is it necessary, and why?
- How is Mundungus to be introduced, and how will the locket be tied in?
- We discuss the trio's visit to the Ministry to include the Statue of muggles.
- Did Dan, Rupert, and Emma stay on set and advise the polyjuice actors?
- Wrong answer game tells us what the Yule Ball, Muggle-Born registration commission, PotterWatch, and shell cottage really are.
Podcast: Play in new window | Download (Duration: 1:23:44 — 38.6MB)
Episode #56 is scheduled to be released on August 10th.