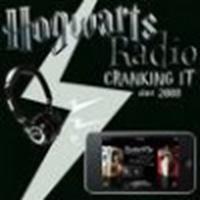 Hogwarts Radio
Hogwarts Radio #48: The One That's Over the Wizarding Limit
June 1, 2010 at 12:08 AM ET
Jeremy HPANA (via Hogwarts Radio)

Hogwarts Radio, HPANA, Harry Potter, podcast
---
We invite you to join us for Hogwarts Radio episode #48, as we look at the recent Epilogue pictures, and discuss a piece of Deathly Hallows backstory and much, much more.
Hosts: Terrance Pinkston, Jr., and Greyson Smith.
- Who is Anubis?
- Epilogue filming wraps.
- Do we feel spoiled with all the pictures and videos we've seen?
- Only 2 weeks left for Deathly Hallows filming, we give our thoughts.
- With such a short time left, they are still casting!
- We announce the winner of one of our twitter contests.
- A listener sends in a question about the way Harry's wand was chosen
- The wand chooses the wizard, so was it the horcrux in Harry that selected it?
- Did the wand work well for Harry after the horcrux in him was killed?
- Background of Harry and Voldemorts wand.
- Fawkes is the universal feather donor.
- We discuss the similarities between Harry and Luke Skywalker.
- What is the lifespan of a Phoenix?
- Does it matter if the phoenix feather is obtained in the prime of the bird or not?
- Back to Potter relates everything to Harry Potter.
- We "Fawk up" the wrong answer game.
- Terrance educates us on what the O.W.L's are.
- Show wrap, and blooper reel.
Podcast: Play in new window | Download (Duration: 1:10:17 — 32.4MB)
Episode #49 will be released June 7.