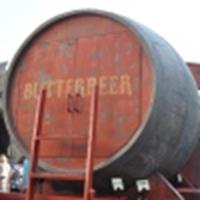 Butterbeer
Soft opening reports from 'Wizarding World of Harry Potter'
May 28, 2010 at 2:29 PM ET
Cheeser MuggleNet (via Various)

wizarding world of harry potter, wwohp, first review, soft opening, new attraction, new theme park, harry potter rides
---
Fans who bought packages in February to visit Universal Orlando Resort's Wizarding World of Harry Potter attraction were allowed into the park today, even though the official grand opening is June 18, a few weeks from now.
Reports from the Orlando Sentinal, WDWInfo.com and Inside the Magic have oodles of photos, video, firsthand experiences and more. Avoid if you don't want to be spoiled senseless!
From the Orlando Sentinal

first:
...preview participants experienced the Harry Potter and the Forbidden Journey ride that's housed in the signature Hogwarts castle. Once onboard, passengers virtually fly along with the Potter character through various adventures and encounters with Dementors, dragons and a Quidditch match.
"You go through and see all the characters," said Laney Rauch from Augusta, Ga. "Spiders fall and skulls pop out of you. The Dementors are so close to you it's like you can almost feel them next to you."
View some beautiful photos here

, courtesy DisUnplugged.com, and 90 more at WDWInfo.com

.
Ricky from Inside the Magic

spent three hours in the park this morning, shooting video and pictures and taking it all in:
I am notoriously long-winded in my reviews of new attractions but I can easily sum of the entirety of the Wizarding World of Harry Potter in one word: Wow. There is really nothing more to say. There is "wow" everywhere you look.
Stay tuned for what will undoubtedly be a deluge of more fan and professional reviews as we roll toward the grand opening on June 18.