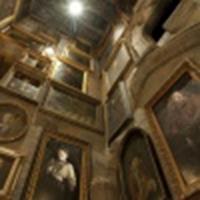 Forbidden Journey
'Wizarding World of Harry Potter' to officially open June 18
March 25, 2010 at 10:03 AM ET
Cheeser HPANA (via Universal Orlando Resort)

harry potter and the forbidden journey, wizarding world of harry potter, universal orlando resort, tour hogwarts
---
While not as early a date as many expected, Universal Orlando Resort has kept their promise to reveal the Wizarding World of Harry Potter "this spring" by giving it a grand opening of June 18 -- three days shy of the official start of summer in the northern hemisphere.
HPANA and other sites on Wednesday got a sneak-peek at the attraction's highly anticipated Harry Potter and the Forbidden Journey ride with a guided tour by Thierry Coup, Vice President of Universal Creative and Alan Gilmore, art director for the Harry Potter films.
(Scroll down for new pictures!)
Upon entering the Hogwarts castle gates, guests will become part of an "immersive hour-long journey," visiting well-known and well-loved locations and people in the Harry Potter universe, including Albus Dumbledore, Harry Potter, Hermione Granger, Ron Weasley, Draco Malfoy, Rubeus Hagrid and the Fat Lady.
The whole environment both inside and outside of Hogwarts was meticulously designed and crafted to exact specifications based on the Warner Bros. film adaptations.
"It's the most spectacular attraction we've ever created," said Mark Woodbury, President of Universal Creative. "This will be the only place in the world to experience Harry Potter in three dimensions."
"It's a great legacy left by J.K. Rowling. Everyone has a different picture in their heads when they are reading, and then Warner Bros. came along and provided a common visual language," said Woodbury. Universal Orlando Resort relied on that established imagery to create the 20-acre park.
The Forbidden Journey ride itself will include:
meeting Harry, Ron and Hermione as if they were in person
soaring over Hogwarts castle with Harry
being swept into a Quidditch match
feeling the chilling effect of a Dementor
exploring favorite places inside Hogwarts castle
Physical locations include:
Dumbledore's office: Here, guests meet the Headmaster as he welcomes them to Hogwarts
Defence Against the Dark Arts classroom: meet Harry, Ron and Hermione, who entice guests to skip a planned lecture by Professor Binns and come with them on an entirely different adventure
Gryffindor common room: Meet three additional characters who provide safety instructions and prepare guests for their journey
Room of Requirement: Here, with hundreds of floating candles above, guests take their seat on an "enchanted bench" and begin the Forbidden Journey
Other locations: In addition, guests will pass through the Dungeon passageway and hallways of Hogwarts where they will have the chance to see hundreds of wizard portraits from the films, including several magical talking portraits created exclusively for The Wizarding World of Harry Potter, including the four founders of Hogwarts. Guests will even get a glimpse of the Sorting Hat.
Universal Orlando Resort is calling the attraction "the first-ever combination of live-action, advanced robotic technology and innovative filmmaking."
The attraction's newly created ride system envelops guests in filmed action scenes and moves those scenes with them as they travel through the ride, allowing more time in the center of the adventure and with their favorite characters. This fusion of robotic technology and filmed scenes has never been achieved until now. In some cases, technology had to be invented to achieve the highest level of guest experience. The combination of pioneering, state-of-the-art technology, innovative filmmaking and surprises around every corner make this attraction the embodiment of the Harry Potter book and film series -- and the future of theme park entertainment.
"What we have done will forever change the theme park attraction experience," said Woodbury.
NEW PICTURES:
It's possible some guests to Universal Orlando Resort will have access to Wizarding World prior to the June 18 "grand opening," with some media reporting a May 28 soft opening.
However, new Potter-centric vacation packages

with a start date of June 18 are now available on Universal Orlando Resort's web site.