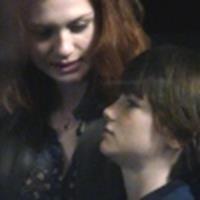 Ginny and Albus Severus
Update: First spy photos of 'Deathly Hallows' epilogue filming
May 24, 2010 at 7:43 PM ET
Cheeser MuggleNet

james sirius potter, albus severus potter, harry potter deathly hallows epilogue, deathly hallows ending, lily luna potter, ginny weasley, ginny potter, bonnie wright, dan radcliffe
---
The first shots of Harry Potter and the Deathly Hallows filming at King's Cross are here!
They show an aged Daniel Radcliffe and Bonnie Wright as their characters Harry and Ginny, with children James Sirius, Lily Luna and Albus Severus in tow:
(Note that the children are best-guesses based on their age.)
The adult actors did their best to hide their artificially-aged appearances

this morning.
Deathly Hallows: Part II, which includes this scene, is due in theaters July 15, 2011.
Thanks to MuggleNet

and ScarPotter

for the tips!

UPDATE:

Thanks again to ScarPotter

you can see additional

photos from the Deathly Hallows filming currently taking place in London. Filming will continue on location through Thursday of this week.