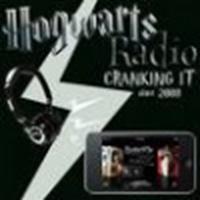 Hogwarts Radio
Hogwarts Radio #47: The One That Has No Name
May 16, 2010 at 3:13 PM ET
Jeremy HPANA (via Hogwarts Radio)

Hogwarts Radio, HPANA, Harry Potter, podcast,
---
Join us for a brand new episode of Hogwarts Radio episode 47, with a brand new style, we explain!
Hosts: Terrance Pinkston Jr, Becca Schroeder.
- Another edition of Hogwarts Radio is released!
- We try a first for the show, using LIVE effects, sounds, etc…
- News covers Epilogue filming, Emma's first college experiences, and more!
- Don't forget to put HPANA in the "who sent you field" when registering for Infinitus 2010.
- Wizards Gone Wild! chronicles the highlights of the past few years in the Potter fandom.
- Into the Pensieve: Chapters 3 and 4 of Deathly Hallows.
- Do we expect to see Dudley talk sense?
- This is the last time we will see the Dursleys in the series, we discuss our thoughts on this.
- Would we be upset if we did not see them at all?
- Hogwarts Radio trivia challenge: Who Wants To Be a Galleonaire! makes its return.
- Rachel is our contestant this week, and how far does she get?
- We wrap up the show with Funniest HR moments!

Podcast: Play in new window | Download (Duraction:1:03:38 - 29.4KB)
Episode 48 is scheduled to be released June 3.