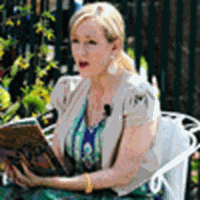 J.K. Rowling
Video: J.K. Rowling reads 'HP' at White House; answers questions
April 5, 2010 at 2:34 PM ET
Jeremy MuggleNet

J.K. Rowling, White House, Easter, Harry Potter,
---
Update: Video of the event is now avaialble, via YouTube

.
As part of the White House

Easter festivities, J.K. Rowling was invited to read from Harry Potter and answer questions from the children there during the celebrations.
Some very interesting information arose from the brief Q&A between readings. Here are some basic facts regarding the event, and we will have more detailed information when it is available:
J.K. Rowling plans to return to Harry Potter, saying that she will be "ready" to return to Potter within the next ten years.
J.K. Rowling confirms working on a new project

, although she would not divulge what it is as of yet.
To see pictures from the event, click here.
Stay tuned for more information about the event, as it becomes available.