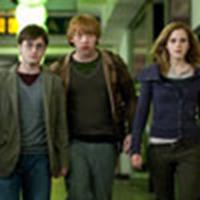 'Deathly Hallows'
David Heyman anticipates 'Deathly Hallows' in 3D
March 29, 2010 at 3:09 PM ET
Jeremy MuggleNet (via Vh1)

Harry Potter, Harry Potter and the Deathly Hallows, David Heyman, 3D, mtv,
---
In a new interview

with MTV, Potter producer David Heyman spoke about what we can look forward to in Harry Potter and the Deathly Hallows now it has been announced that it will receive 3D treatment, as well as a little about the reasons for this decision.
MTV: Do you know how long the conversion process will actually take once you start doing it?
Heyman: What they generally talk about is 12 to 16 weeks, but we're going to begin the process very, very soon.
MTV: Is there one scene in particular that you think is going to be especially great in 3-D?
Heyman: One of the things I really loved about watching James Cameron's approach to 3-D in "Avatar" was that it wasn't about things coming out at you all the time. It was actually about adding great depth. You wouldn't want to overuse stuff coming at you. We haven't begun the process of converting it yet. We are doing some tests and looking at various things, but we aren't done with any sequence yet. I am obviously looking forward to some of the battle sequences in the second part. I am also looking forward to seeing the dragon flying up. I think there's a lot that will be great in 3-D, but to me, where it's really most exciting is just making that world seem much deeper, richer and what that extra dimension gives you.
Harry Potter and the Deathly Hallows - Part 1 is scheduled for November 19, and Harry Potter and the Deathly Hallows - Part 2 comes out July 15, 2011.