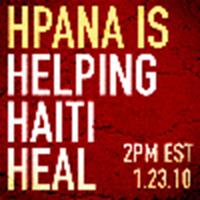 Helping Haiti Heal
'Helping Haiti Heal' gift draw; event over
March 9, 2010 at 7:41 PM ET
Jeremy HPANA (via Helping Haiti Heal)

Helping Haiti Heal, prizes, announcement, Harry Potter,
---
Update: The event is now over with, if you won and there is not already a notification sitting in your inbox, you will be contacted shortly.
The gifts many of you entered to win as part of the Helping Haiti Heal donation drive, which raised $123,754.41 for Partners in Health, are being announced

live as we speak (7:30 PM EST, Mar. 9), and you can visit the Helping Haiti Heal website to find out if you won!
Winners will also be notified via email, in case you miss the live announcement. But you can also check in on the announcements, right here

.