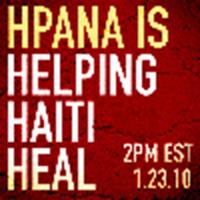 Helping Haiti Heal
Second 'Helping Haiti Heal' telethon airs; $65,000 current total raised
January 30, 2010 at 3:14 PM ET
Jeremy HPANA (via Helping Haiti Heal)

Harry Potter, Helping Haiti Heal, hpa, Harry Potter Alliance, hhh, Haiti,
---
Update: The event is now over, and the total amount of money raised so far is $65,000.
A second Helping Haiti Heal livestream event

is taking place right on in an effort to help Partners in Health

as they give aid to those in the devastated country of Haiti.
The Harry Potter Alliance has united with fan communities across the world, raising over $50,000 for Helping Haiti Heal! That money will charter an entire cargo plane that will bring critical life-saving supplies to thousands of Haitians and more.
Saturday January 30 at 2 pm will be another epic livestream at thehpalliance.org/haiti

.

And we're still going! When you donate at thehpalliance.org/haiti/prizes

, you become eligible to receive one of over 200 thank you gifts based on individual donation levels. These gifts include a: -Full UK set of seven signed Harry Potter books by J. K. Rowling, along with a handwritten card from the author!!!
-Signed guitar from Harry Potter actor Tom Felton's personal collection.
-Harry Potter book signed by the Harry Potter cast (courtesy of actress Evanna Lynch)!!!
-Signed copies of Unseen Academicals and Wintersmith by author Sir Terry Pratchett!
-A signed copy of Harlequin Valentine from Neil Gaiman!
-And so much more! We are less than $17,000 away from chartering a second plane for Partners In Health! Every little bit helps - please donate today

!

What we are doing is unprecedented in bringing together the entire Harry Potter fan community with fan sites for "True Blood," "Mad Men," "Firefly," "Lord of the Rings," "The Guild," "Ghostbusters," as well as stars from "The Wire," "Heroes," and more! Join us again Saturday January 30 at 2 pm EST right here

and let's keep going!!!