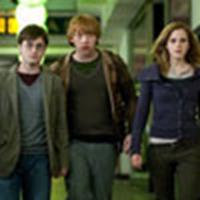 'Deathly Hallows
'Empire' Magazine's 'Deathly Hallows' report now online
January 5, 2010 at 12:30 AM ET
Jeremy MuggleNet

Harry Potter, Harry Potter and the Deathly Hallows, preview, scan, movie, Empire, Magazine, report
---
As we mentioned earlier, a preview report of Harry Potter and the Deathly Hallows was set to be released in the February issue

of Empire Magazine. A scan of that article is now online for your viewing pleasure.
The article includes interviews with both Daniel Radcliffe and Director David Yates, who discuss filming of the final two chapters of the franchise, as well as early results of the footage seen:
The page-long report includes new comments from Dan Radcliffe who speaks from the set of the Seven Potter scene. Dan calls it "the single most complicated sequence we've done in any of the films. Everyone's changing into me and nobody really knows what's going on. I'm dressed up as everyone else and they're dressing up as me, and, well, it's very confusing."
It also includes a bit from director David Yates, who says he "watched the first assembly of Part One just last week, and the most interesting dynamic is that you're taking these three characters we know quite well away from the comfort zone of Hogwarts. And you really can't underestimate the odd power of that."
To view the scan of the article, click here

.
Thanks to MuggleNet

and Clare for the tip!