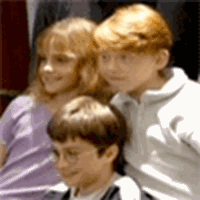 Young 'Potter' trio
Round up of 'Potter' DVD news & more
November 17, 2009 at 5:14 PM ET
Geri HPANA (via Various)

harry potter and the half-blood prince dvd, half-blood prince dvd, hbp dvd, dan radcliffe, tom felton, emma watson, rupert grint
---
With the U.S. release of the Harry Potter and the Half-Blood Prince DVD just three weeks away, a plethora of videos as well as interviews has hit the web.
First, in a new interview

with Jamie Campbell Bower he discusses missing out on the role of teen Tom Riddle in Half-Blood Prince and being asked back to play Grindelwald in Harry Potter and the Deathly Hallows
You can view numerous videos featuring David Heyman, Daniel Racliffe, Bonnie Wright, the Philps twins, Rupert Grint, Tom Felton and Emma Watson from the Half-Blood Prince DVD here

, here

, here

, here

and here

.
And finally, in non-movie related

news, actress Bonnie Wright has created her own twitter account.
Thanks to SnitchSeeker

, TLC

and Portkey

for the links.