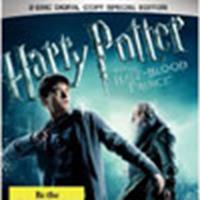 'HBP' DVD
'HBP' included on Amazon's 'Best Movies & TV of 2009' list
November 9, 2009 at 5:59 PM ET
Geri HPANA

harry potter and the half-blood prince movie DVD, half-blood prince movie DVD, hbp movie DVD
---
With the release of the Harry Potter and the Half-Blood Prince DVD just weeks away, Amazon just announced their annual 'Best Movies & TV of 2009' list which included

the movie in numerous categories.
The annual list

also features 'Top 100 Customer Favorites' and 'Top 10 lists' in specific categories such as Kids & Families, Horror, Sci Fi, and even the best packaged & quirky DVDs of the year.
The DVD will be released on Tuesday, December 8th and is available for pre-order

at the HPANA store.