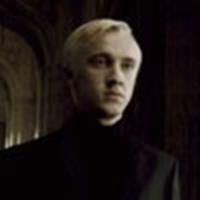 Tom Felton (Draco)
Tom Felton discusses his character & 'Half-Blood Prince'
July 15, 2009 at 8:29 PM ET
Geri HPANA (via Los Angeles Times)

harry potter and the half-blood prince movie, half-blood prince movie, hbp movie, tom felton
---
To end their coverage of the Harry Potter and the Half-Blood Prince movie, the LA Times has a new interview with Tom Felton (Draco Malfoy) where he discusses

his character, the franchise, music and more.
This is the major film in Draco's story. There's some coming of age for him here. What were your thoughts going into it?
TF: Very excited, but I also got a little bit anxious, and slightly worried, about what to do and whether or not I could do it. I had many meetings with David Yates and Mike [Gambon] to discuss it, and they really encouraged me to really try and excel with the character. It's what any actor wants when it comes to trying to sink your teeth into a character, and we really do reveal more of Draco's emotions. He's always been slightly two-dimensional in previous years, and this time you really see lots of sides of him.
How so?
TF: You see a much harder and much more violent side, his hate is much stronger. But there's also an immensely vulnerable side to him too. Hopefully you empathize with him by the end, a little bit.
What do you remember about shooting that climactic scene on the Astronomy Tower?
TF: It was intense! When we shot it I was surrounded by the cream of British actors [Alan Rickman and Helena Bonham Carter were present, as was the Dublin-born Gambon], and the scene itself is very intense. There's lots of shouting, screaming and tears. We had good fun with that one. It was the scene I was most looking forward to.
You can read all the interviews with the cast on the LA Times web site

.