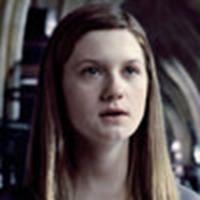 Bonnie Wright
Bonnie Wright talks about 'HBP' and more
July 6, 2009 at 6:24 PM ET
Geri SnitchSeeker (via LA Times)

harry potter and the half-blood prince movie, half-blood prince movie, hbp movie, bonnie wright
---
Continuing their interviews to the release of Harry Potter and the Half-Blood Prince the LA Times interviews

Bonnie Wright (Ginny) where she sets up the 'kissing' scene between Harry and her character. Bonnie also discusses how the film looks amazing and much more.
How did the finished product look?
BW: The way they put it together looks amazing. It moves so quickly, it looks almost impossible. I mean, it almost seems like it wasn't us doing it because I know I wasn't doing it that slickly.
Have you made post-Potter plans?
BW: I still want to continue acting. I start going to university in September and I'm studying film and television and acting. So, not just acting, but also directing and producing and how it all complements each other in the industry. I want to study the big picture.