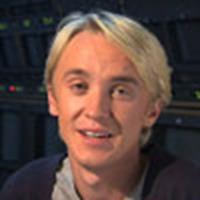 Tom Felton
Exclusive video of making of 'HBP' video game from EA Games
June 29, 2009 at 10:00 PM ET
Geri HPANA (via EA Games)

harry potter and the half-blood prince, half-blood prince, HBP, HP, EA, electronic arts, video game, daniel radcliffe, emma watson, rupert grint, jessie cave, freddie stroma, evanna lynch, tom felton
---
Thanks to EA Games for sending HPANA a couple of videos hosted by Harry Potter actor Tom Felton and containing interviews with Daniel Radcliffe, Rupert Grint, Emma Watson, Bonnie Wright, Evanna Lynch, Freddie Stoma, Jessie Cave.
Each of the videos contains information about different aspects of the Half-Blood Prince on potions, Quidditch and more.
Harry Potter and the Half-Blood Prince video game is available in stores wherever games are sold on June 30th in North America and July 3rd outside of North America.