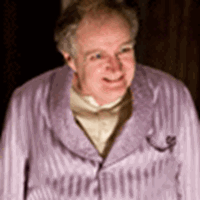 Prof. Slughorn
How do you dress Prof. Slughorn?
June 25, 2009 at 11:52 AM ET
Geri HPANA (via LA Times)

harry potter, jany temime, jim broadbent
---
To add to their numerous reports leading up to the release of Harry Potter and the Half-Blood Prince the LA Times has a brief discussion

with costume designer Jany Temime, who has been working on the Potter franchise for some time.
Ms. Temine dishes on dressing Prof. Slughorn:
In the book, Slughorn's ever-so precious," Temime said. "But once we had Jim in the part, I thought instead of precious, we'd make him grand."
"Jim is not a small, fat man. He is tall and strong," she said. "So we had to change and adapt." To do that, Temime used all of J.K. Rowling's atmospheric detail to tell the story of Slughorn through his clothes rather than his size.
She explains: "Everything we did for his costumes was very rich, but also very used, because he's not a rich man anymore. He hasn't worked for a long time. He is a bit of a has-been. But his clothes, even if they were from 20 years ago, were once upon a time, very rich and very glamorous. So we went for 'Old Glamour' when designing.
You can read the full report online here

.