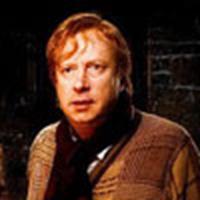 Mark Williams
Mark Williams discusses end of 'Potter' series & more
June 24, 2009 at 9:08 PM ET
Geri HPANA (via LA Times)

harry potter and the half-blood prince movie, hbp movie, hphbp movie, mark williams
---
In a new interview via the LA Times Mark Williams, who portrays Arthur Weasley in the Harry Potter movies, discusses

the new movie, Half-Blood Prince, the end of the series, his character and when all is done what he, if he could, take from the set.
So, how much freedom did you get to shape Arthur Weasley to your liking?
Well, in the book he's kind of balding and said to Chris [Columbus] 'Well, do you want me to shave my head or something' and he said 'No! No, don't do that!' He looked at me and said 'Don't take it so literally.' J.K. Rowling has been very good about that. She's allowed the films to develop sort of in parallel to the books, but she hasn't changed the sort of characterization of the books either ... And with Deathly Hallows, I think for the first time, as the books got bigger, Steve Kloves' job got harder and harder. But having two parts to the last book is good. I'm a big champion of it, and not just because I'm in them. She [J.K. Rowling] has such a mathematical brain, or better put, a musical brain and all the themes and the melodies were resolved in the last book.
If you could, once all of the films are done, take something from the set, what would it be?
In the Weasley household, there is a clock that shows where everybody is. It's the most beautiful piece of prop-making. Lots of that is unappreciated and you just go on the set and you're like 'Oh my God!' You just want to give it a close-up ... The hands are the ends of scissors, and it says things like 'school,' 'work' ... and one of the sections says 'in mortal peril.' I'd love that. And it doesn't work, by the way, cause I've been in mortal peril and it didn't say anything. I've come back and it just said 'at work.'
Harry Potter and the Half-Blood Prince opens nationwide on July 15, 2009.