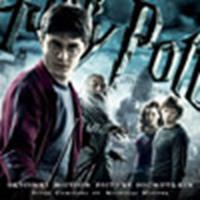 'HBP' soundtrack
'Half-Blood Prince' soundtrack to include bonus exclusive content
June 24, 2009 at 1:11 PM ET
Geri HPANA (via Warner Bros.)

harry potter and the half-blood prince soundtrack, hbp soundtrack, hphbp soundtrack
---
Warner Bros. has just sent HPANA a press release announcing that the soundtrack for Harry Potter and the Half-Blood Prince will include an enhanced CD giving fans a free digital download of the entire soundtrack in 5.1 Surround Sound audio, along with bonus exclusive content.
The soundtrack by Nicholas Hooper, who scored Order of the Phoenix, will be released on July 14.
You can pre-order

the soundtrack from Amazon.