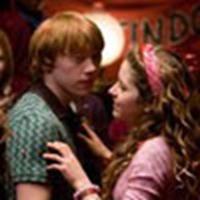 Ron & Lavender Brown
Jessie Cave discusses audition & working on 'HBP'
June 23, 2009 at 1:43 PM ET
Geri HPANA (via LA Times)

harry potter and the half-blood prince movie, hbp movie, hphbp movie, jessie cave
---
To add to the numerous articles online in the lead up to the release of the Harry Potter and the Half-Blood Prince movie next month, a new piece

featuring Jessie Cave (Lavender Brown) is now available to read. In the article Jessie discusses auditing for the role and working with Rupert Grint.
For your final audition, what scene did you get to act out with Rupert?
We actually had to improvise for a good 15 or 20 minutes, which is very scary. It's a really long time. The director, David Yates, was there and he was just like, "Hi. Right. Here's a plate of biscuits, Jessie. It's a lovely plate of chocolate biscuits and I want you to do whatever you want with these biscuits.' Rupert was in the room, sitting on the sofa, and I just thought, 'What the hell am I going to do with this plate of biscuits?
How did it feel playing someone who everyone will know doesn't stand a chance?
Well, she does really! She does quite well. She does go out with him and does get her claws into him for awhile. Not claws -- she's lovely. She does get her way for a tiny bit, but unfortunately, it doesn't end up her way.
Thanks to Matt for the link.