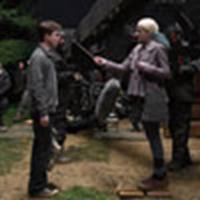 Filming 'Deathly Hallows'
New set report from 'Deathly Hallows' filming
June 22, 2009 at 9:43 PM ET
Geri The Leaky Cauldron (via The Guardian)

harry potter and the half-blood prince movie, hbp movie, hphbp movie, deathly hallows, david heyman, harry potter and the deathly hallows, hpdh
---
A new set report

from the filming of Harry Potter and the Half-Blood Prince includes new interviews with producer David Heyman, director David Yates, actors Daniel Radcliffe, Tom Felton and Jim Broadbent.
Dan Radcliffe on Deathly Hallows:
The Half-Blood Prince is funnier than the previous books, which has given me the reins to be a bit more stupid. But I actually prefer doing the slightly darker side of stuff. I'm not so comfortable with being funny. One of David Yates's jobs on this film is to make me see that it's not always about the darkness in the scene; I have in my head that darkness in a character equals credibility and of course that's not the case.
David Yates on having fun filming:
Oh God, yes. I have too much... I have a lot of fun. And this one will feel tonally different. It will feel more playful, more magical, more emotional. We're very excited about this one. We feel as though we're moving it on again.
Jim Broadbent discusses being part of the franchise:
It was an extraordinary thing to be part of. The main sets feel so permanent, having been there since the start, which means it's very easy to get drawn into the world of Hogwarts. It was rather daunting turning up on set with all these young actors; it could so easily have been a nightmare, given that the five films have had such huge success. But the kids turned out to be terrific. There was no brattish behaviour or starry, Fame Academy behaviour; they just get on with it.