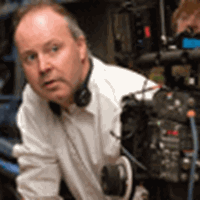 David Yates
LA Times interviews 'HP' director David Yates
June 20, 2009 at 4:50 PM ET
Jeremy The Leaky Cauldron (via LA Times)

Harry Potter, Half-Blood Prince, Deathly Hallows, David Yates, LA Times, interview
---
As part of the LA Times continued countdown to the release of Harry Potter and the Half-Blood Prince, they have released a brand new interview

with Director David Yates in which he discussed both Half-Blood Prince and Harry Potter and the Deathly Hallows.
SPOILER WARNING:
We're here in the forest, we've just finished the scene where Harry, Hermione and Ron are captured by the Snatchers after being chased through the woods. The Snatchers are brutal and scary but they aren't the most intelligent of creatures. They're trying to figure out exactly who it is they've caught.
He voices his disappointment with the Half-Blood Prince eight-month delay and the disadvantages of having the film not yet released:
It was not something I warmed to initially. At the time, I was so adrenalized, I was so caught up in the process of getting the film in on deadline and making the movie on a certain schedule, and then the decision to delay was a huge anticlimax. There was a huge sense of disappointment, I must say. We finished the film a year ago, so it's very strange to go all this time without seeing it with an audience, which is what you make it for. But the studio made their case for the move and I came to understand and appreciate their reasons and they are very good at delivering these movies and understanding the process of making a film successful and I think it wise to defer to their judgment.
You find yourself fiddling with it much more in post-production, naturally. There's a good and bad to that. You could keep adjusting things for the rest of your life if you allowed yourself to do that. That can be unhealthy and at some point you have to say, 'Here is the cut-off date.' I know fans are eager to see it and it's been interesting for us to come back to it now, even as we are busy filming the next installments.
David finishes the interview by discussing the Deathly Hallows split, admitting that the first part will end with a cliffhanger:
Yes, I think we have. Things can change when you edit, of course, but the idea now is that it will be not long after the sequence that we are filming here today. That's what we're experimenting with. We've had three or four different ideas about where to cut off the seventh film. Traditionally, the movies have ended with a death or a bereavement, some sort of passage or arrival. This time we think we will end with more a cliffhanger. Again, though, that's the thought as of this moment.
To read the entire interview, click here

.