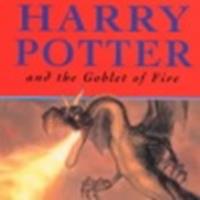 'Goblet of Fire'
Dead author's estate sues 'Harry Potter' for infrigement
June 15, 2009 at 1:10 PM ET
Cheeser HPANA (via PR Newswire)

adrian jacobs, willy the wizard, harry potter and the goblet of fire
---
The estate of author Adrian Jacobs sued Bloomsbury today for lifting storylines and events from his Willy the Wizard series in JK Rowling's Harry Potter and the Goblet of Fire:
[In] 1987 Adrian Jacobs wrote the book The Adventures of Willy the Wizard-No 1 Livid Land, which describes the adventures of a wizard named Willy. The copyright allegation argues that the plot of Harry Potter and the Goblet of Fire, published in 2000 and one of J.K. Rowling's best-selling books, is a copy of that to be found in Jacobs' book.
It is also alleged that Jacobs "sought the services" of Christopher Little for help finding a publisher, who became Rowling's literary agent a decade later.
The estate's press release goes on to say:
Both books describe the adventures of a main character, "Willy" in Jacobs' book and "Harry Potter" in Rowling's, who are wizards, who compete in a wizard contest which they ultimately win. Both Willy and Harry are required to work out the exact nature of the main task of the contest which they both achieve in a bathroom assisted by clues from helpers, in order to discover how to rescue human hostages imprisoned by a community of half-human, half-animal fantasy creatures, "the merpeople" in Harry Potter.
Jacobs can also claim credit for the idea of wizards traveling by train, according to the estate.
He died in 1997, although it's unclear if Jacobs was aware of the publication of Harry Potter and the Philosopher's Stone by Bloomsbury that July, or if he even read it.
Representatives for Bloomsbury Publishing Plc told HPANA today:
...this claim is without merit and will be defended vigorously. The allegations of plagiarism made today, 15 June 2009, by the Estate of Adrian Jacobs are unfounded, unsubstantiated and untrue.
JK Rowling had never heard of Adrian Jacobs nor seen, read or heard of his book Willy the Wizard until this claim was first made in 2004 -- almost seven years after the publication of the first book in the highly publicised Harry Potter series and after the publication of the first five books.
Willy the Wizard is a very insubstantial booklet running to 36 pages which had very limited distribution. The central character of Willy the Wizard is not a young wizard and the book does not revolve around a wizard school.
This claim was first made in 2004 by solicitors in London acting on behalf of Adrian Jacobs' son who was the representative of his father's estate and who lives in the United States. The claim was unable to identify any text in the Harry Potter books which was said to copy Willy the Wizard.
The Bloomsbury response then digs quite a bit deeper:
The claim was largely based on the work of a man called David Markson who had been sentenced at Leeds Crown Court on 4 December 1989 to five years imprisonment for fraudulent trading and theft. He was also disqualified from acting as a company director for 15 years. David Markson is now said to be the literary agent of Adrian Jacob's estate and his brother Max Markson is handling the publicity for the estate in this case.
Following correspondence between lawyers over a period of three months in 2004 rejecting this claim, no more was heard about the claim until a new set of solicitors put forward the claim on a significantly different basis four years later in 2008 (eleven years after the publication of the first Harry Potter book) but still without identifying any text said to copy Willy the Wizard. These lawyers have stated that they are acting on behalf of a firm of solicitors in Wagga Wagga, Australia and on behalf of a West Midlands property developer who was appointed in 2008 as Trustee of the Estate in order to bring this claim. The claim is now made in respect of Harry Potter and the Goblet of Fire, which was published in 2000.
Adrian Jacobs was described in his 1989 bankruptcy petition as "an entrepreneur, financial and corporate consultant". Writing was very much a sideline and his book was of a very poor quality. He went bankrupt owing hundreds of thousands of pounds in 1960, 1965 and 1989.