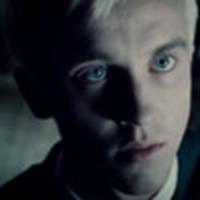 Malfoy
'Half-Blood Prince' included in EW's 'Summer Preview'
April 17, 2009 at 1:14 PM ET
Geri HPANA (via Entertainment Weekly)

harry potter and the half-blood prince, harry potter 6, half-blood prince
---
This week's issue of Entertainment Weekly features their annual Summer Preview which includes a one-page write up (pg 65) of Harry Potter and the Half-Blood Prince and the movie is included in their 20 Summer Movies We Can't Wait to See section

on their site. The article in the magazine also includes a picture of Harry and Dumbldore.
The article is below:
The wait is over. Warner Bros.' adaptation of Harry Potter and the Half-Blood Prince finally hits theaters July 15. "You know the headline on this one, of course," says Robbie Coltrane (Hagrid) of the franchise's sixth installment. SPOILER ALERT! "It's the one where Dumbledore [Michael Gambon] pops his claws." (If you're not hip to Coltrane's lingo, well …mystery preserved). It's also the one where we learn Voldemort's origin story—although there's much less of it in the movie than in the book. Screenwriter Steve Kloves says he chose "a few key memories instead of attempting to include all of them." Half-Blood Prince also emphasizes Harry's relationship with Professor Slughorn (Jim Broadbent), the Potions teacher who holds a secret to Voldemort's past, plus teen-romance intrigue involving Harry (Daniel Radcliffe) and Ginny (Bonnie Wright), as well as Ron (Rupert Grint), Hermione (Emma Watson), and newcomer Lavender Brown (Jessie Cave). "The last film was quite intense with all that battle stuff," says Grint. "This one is a lot lighter and much funnier." Not that the film lacks thrills. "I worked with a giant spider," says Broadbent. "Bloody marvelous."
As a reminder you can also read their report from their on-set

report last year which was published last August in the magazine.
Thanks to EW for the news.
Harry Potter and the Half-Blood Prince will be released on Wednesday, July 15th.