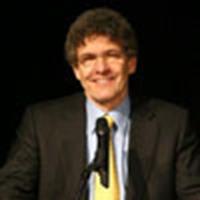 Alan Horn
'Half-Blood Prince' trailer shown at 'ShoWest'
March 31, 2009 at 7:05 PM ET
Geri HPANA (via Cinema Blend)

harry potter and the deathly hallows movie, deathly hallows movie, hpdh movie
---
Earlier this week the President and COO of Warner Bros. Alan Horn spoke at a seminar during ShoWest

, in Las Vegas, Nevada, where an extended trailer for the Harry Potter and the Half-Blood Prince movie was shown with some new footage.
A brief description

of the trailer has appeared online:
Dumbledore also has a line of dialogue that definitely isn't part of the book-- "Voldemort has chosen Draco Malfoy for a mission."
And finally, the new trailer had a lot of glimpses of stuff we already knew form the books, but looks amazing onscreen anyway-- the Inferi crawling out of the lake to attack Harry (they look a lot like Gollum), Harry shouting "FIght back you coward!" at Snape as he runs away from the castle, and little things, like Katie getting attacked by the cursed necklace or Malfoy's magical wardrobe that allows the Death Eaters to enter the castle at the end of the story. It all looks pretty excellent, as has everything for the movie that we've seen thus far.
Alan Horn asked at the beginning of the presentation if we'd all forgiven him yet for delaying this movie's release from last fall to this summer. The answer is no, probably, and new footage like this doesn't make the wait any easier. But at least we know we've got something to look forward to.
We are confirming with Warner Bros. that the trailer will be made available for fans to enjoy and that it is new or has new material.
Thanks to UHP

for the news.