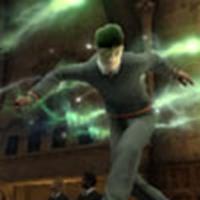 'HBP' video game
Review of 'Half-Blood Prince' video game
March 17, 2009 at 7:24 AM ET
Geri HPANA (via Video Gamer)

harry potter and the half-blood prince video game, half-blood prince video game, hbp video game
---
With the release of the Harry Potter and the Half-Blood Prince movie just a few months away news comes this morning of a review the video game attached to the movie.
Snippet from the review

:
Whatever it is that you crave from The Half Blood Prince, it certainly seems that First Light is trying to cover as many bases as possible. It's a massive understatement to say that Harry Potter is a huge licence, but after nine years of working on the series it seems as though the developer is more than comfortable with the young wizard and his chums. The game looks like it's coming together nicely; let's hope it does, because a lot of little voices are going to be clamouring for this come late summer.