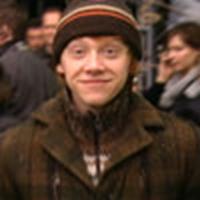 Rupert Grint (Ron)
Update: MTV 'Spoilers' to show 'Half-Blood Prince' footage; new images
February 18, 2009 at 6:26 PM ET
Geri Yahoo! News (via MTV Music Television)

harry potter and the half-blood prince movie, hbp movie, hphbp movie
---
MTV's Spoilers show is scheduled to show footage from their visit to the Harry Potter and the Half-Blood Prince set this coming Saturday.
According to the web site

:
...we'll also be showing footage from our visit to the set of July's eagerly anticipated Harry Potter and the Half-Blood Prince.
MTV's Spoilers will air Saturday, February 21st at 8 p.m. - please check your local listings.
UPDATE: To add to the news post, MTV have posted

an additional article on their show this coming Saturday with two new images of Emma Watson (Hermione) and Rupert Grint (Ron).
From the new post:
So tune in to hear from director David Yates along with the Potter holy trinity: Daniel Radcliffe, Rupert Grint and Emma Watson, all of whom spoke to us about the film's much darker themes. What a sneak peek?
Newcomer Jessie Cave — known better as Lavender Brown — regaled us us about her unrehearsed kiss with budding stud Rupert Grint. And of course, there's the important scene at the end on top of the Hogwarts castle ramparts.