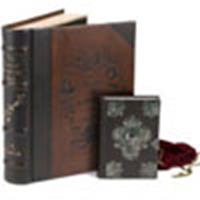 'Beedle the Bard'
Win a collector's edition of 'Beedle the Bard' from AbeBooks
January 8, 2009 at 7:19 PM ET
Geri The Leaky Cauldron

beedle the Bard, Harry Potter, J.K. Rowling, jkr, jo rowling
---
Residents of the U.S. and Canada have a chance to win the collector's edition of The Tales of the Beedle the Bard by J.K. Rowling courtesy of online book retailer AbeBooks.com. Also included as the prize is a copy of the Sotheby's auction catalog for the hand-written book from December 2007.
You must be between the ages of 13 to 20 in the U.S., and between 13 to 18 if you live in Canada to enter the contest, which ends on January 20, 2009 at 9:59am PDT. To enter

the contest you must answer a question:
The seven hand-written editions of The Tales of Beedle the Bard feature moonstones mounted into their covers. Which 19th century author wrote a novel called The Moonstone that was published in 1868?
Charles Dickens
Lewis Carroll
Wilkie Collins
RD Blackmore