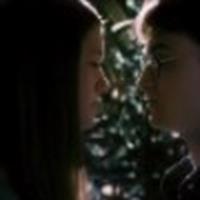 Harry and Ginny
'Half-Blood Prince' gets PG rating in the U.S.
January 7, 2009 at 5:48 PM ET
Geri The Leaky Cauldron (via Rope of Silicon)

harry potter and the half-blood prince movie, half-blood prince movie, hbp movie
---
News comes today that the Harry Potter and the Half-Blood Prince movie will be rated

PG in the U.S. "for scary images, some violence, language and mild sensuality" by the MPAA (Motion Picture Association of America).
The MPAA

rates PG as:
A PG-rated motion picture should be investigated by parents before they let their younger children attend. The PG rating indicates, in the view of the Rating Board, that parents may consider some material unsuitable for their children, and parents should make that decision.
The more mature themes in some PG-rated motion pictures may call for parental guidance. There may be some profanity and some depictions of violence or brief nudity. But these elements are not deemed so intense as to require that parents be strongly cautioned beyond the suggestion of parental guidance. There is no drug use content in a PG-rated motion picture.
Harry Potter and the Half-Blood Prince is scheduled for release on July 17, 2009. This will be the first Potter film since Prisoner of Azkaban in 2004 to be rated less than PG-13.