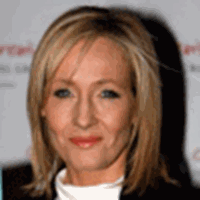 J.K. Rowling
Roundup of stories featuring J.K. Rowling & 'Beedle the Bard' coverage
December 4, 2008 at 7:16 PM ET
Geri HPANA (via Various)

jkr, j.k. rowling, jo rowling, harry potter series, beedle the bard
---
J.K. Rowling told

the audience of her tea party today at the National Library of Scotland in Edinburgh that she had written her latest book, Beedle the Bard, because the fans wanted her to and that she also has a fear of spiders, just like Ron Weasley.
You can also read

a report from MuggleNet, as well as some photos

from outside the event where author Ian Rankin, Matthew Lewis, Devon Murray, and Evanna Lynch were in attendance.
You can view some pictures from today's event here

courtesy of Getty Images.
Some reviews

are now online of the book.