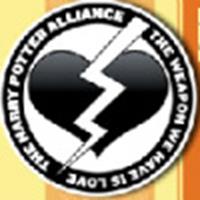 The HP Alliance
Happy Thanksgiving from The Harry Potter Alliance!
November 27, 2008 at 5:48 PM ET
Jeremy HPANA (via The HP Alliance)

Harry Potter Alliance, Harry Potter, Thanksgiving,
---
STAND FAST is an opportunity where only 3 dollars protects one in Darfur from being raped, and 5 dollars protects one family in Eastern Burma from being killed. Go here

to learn more about how this relates to Harry Potter and how a very small donation can go a long way in helping to protect people's lives across the world.
The HP Alliance just released two new Potterwatch podcasts about STAND Fast which you can listen to right here

or by searching for HP Alliance at the iTunes store. This Tuesday night at 8:30 pm EST, the HPA will be holding a live Potterwatch conference call featuring special guests like Paul DeGeorge of Harry and the Potters. For more info, please email [email protected], or click here.
HP Alliance Director Andrew Slack says,
"STANDFast is an opportunity for all of us across the world to make a stand for civilian protection. If you're in the US, many of you are at home with your families celebrating Thanksgiving. A great way to show how thankful we are for the people and resources in our lives is by sending a small donation to people who need it so that they may stay alive. Time and again our fandom has shown that we have the numbers and the heart and the message of love in Harry Potter so that together we can transform this world. Please talk to your friends and relatives and give even a little at thehpalliance.org/civilianprotection

."
If you have any further questions on this subject, or The Harry Potter Alliance in general, please email [email protected]