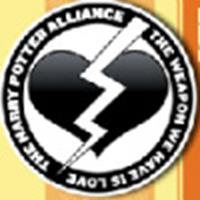 The Harry Potter Alliance
The Harry Potter Alliance: Civilian Protection!
November 12, 2008 at 11:22 PM ET
Jeremy HPANA (via The Harry Potter Alliance)

Harry Potter Alliance, Harry Potter, StandFast,
---
The Harry Potter Alliance has just announced

their newest campaign, Civilian Protection. While their recent campaigns have been directed at one topic in particular, Civilian Protection is an effort to help mankind in numerous ways, such as ending the atrocities in Darfur and Burma.
This December 3, we ask that you give up a luxury item and with the money you save, donate it here

. All proceeds from this page will go toward saving and improving lives by protecting the "Lily Potters" of Darfur and the "Potterwatch" of Burma. Just ten dollars can go along way to protecting a whole family in Burma as a woman in Darfur. And think what you can do if you organize friends and family and members of your school and community to raise too! Think about the opportunity you and I have to make such a difference!
This is a great opportunity to help out your fellow human beings, just as the wizarding world banded together to defeat Lord Voldemort, let us stand together and say NO to the atrocities in Darfur and Burma.
To read more on this amazing cause, and to donate, click here

!