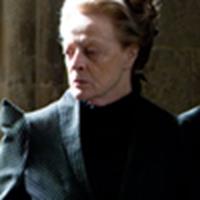 Professor McGonagall
Update: New Prof. McGonagall & more images from 'Half-Blood Prince' online
November 10, 2008 at 8:12 PM ET
Jeremy HPANA (via ScarPotter)

harry potter and the half-blood prince movie, half-blood prince movie, hbp movie
---
Warner Brothers has released a new Harry Potter and the Half-Blood Prince picture depicting Maggie Smith as Professor McGonagall in contemplation.
UPDATE: Additional promotional images from the movie have also been released of Luna, Ron, Hermione and Prof. Dumbledore and are now online

.
Thanks to Oclumencia

via SnitchSeeker

for the new update.