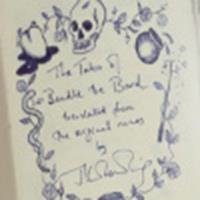 'Beedle the Bard'
Scholastic announces 'Beedle the Bard' print run
November 10, 2008 at 1:55 PM ET
Jeremy HPANA (via Publishers Weekly)

Beedle the Bard, Harry Potter, Scholastic, J.K. Rowling,
---
It has been announced

that Scholastic, the US Harry Potter publishers, will open with a 3.5 million print run for J.K. Rowling's Tales of Beedle the Bard.
"Everyone knows someone who loves Harry Potter. It's a great stocking stuffer and a wonderful addition to a Harry Potter library," says Diane Mangan, director of children's merchandising at Borders Book Group. Already Beedle is getting strong preorders at both Borders and Borders.com. And Mangan is hoping to keep up the momentum by highlighting the book on Borders's homepage and giving it front-of-store treatment in its stores on publication.
To pre-order the book, which comes out Dec. 4, click here.