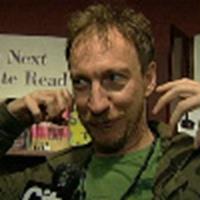 David Thewlis
David Thewlis talks 'Harry Potter' in new interview
November 7, 2008 at 11:23 PM ET
Jeremy HPANA (via Various)

Harry Potter, David Thewlis,
---
Continuing his promotion of the movie The Boy in the Striped Pajamas, David Thewlis conducted two more interviews in which he talked about his Harry Potter work.
In a video interview with KTLA TV Los Angeles, David talked about the upcoming Deathly Hallows, the Half-Blood Prince push-back, and more. To watch the interview, click here

.
Also in a interview with NJ.com he spoke briefly about Harry Potter:
Q: Did you have any reluctance with Harry Potter, like there's a lot of baggage that goes with it?
A: I wasn't thinking about it much when I said yes, because there'd only been two films out at that time and it wasn't a huge machine like it is these days.
Q: Is your daughter too young for Harry Potter?
A: She's seen little bits of it. I switch it off when it gets scary.
To read the full interview, click here

.

Thanks to Snitchseeker and TLC

for the tips!