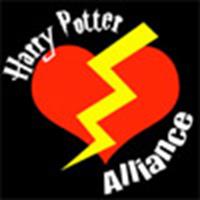 The HP Alliance
Update: Wizard Rock the Vote!
November 3, 2008 at 7:58 PM ET
Jeremy HPANA (via The HP Alliance)

Harry Potter, Wizard Rock the Vote, Harry Potter Alliance,
---
Update: Wizard Rock the Vote has been featured

on MTV NEWS!
As many of you know, The Harry Potter Alliance is a Harry Potter-inspired initiative that works tirelessly to make our world a better place by taking examples from the likes of Albus Dumbledore and those who made the wizarding world a better place. Their latest campaign, Wizard Rock the Vote!

, has made great progress, registering 900 people to vote!
The following is a message from Andrew Slack, founder of The Harry Potter Alliance

:
We are one day away from the US election and are really proud to let people know that thanks to the whole fandom, the HPA's Wizard Rock the Vote program registered close to 900 voters! So if you can vote this Tuesday (tomorrow), please do it! And keep in mind, even if you aren't registered, if you're in Idaho, Iowa, Maine, Minnesota, New Hampshire, or Wisconsin you can register at the polls on the day of the election. For more on polling locations and other voting info check this out

.
Also, I know that whenever I get to the polls I'm frustrated that I don't know enough about the ballot initiatives going on in my state. Now you can research them by state

as well as by issue

.
To help take a greater part in the Harry Potter Alliance, please visit their website

.