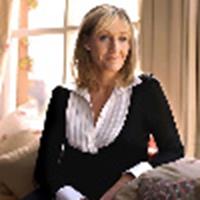 J.K. Rowling
J.K. Rowling to host 'Beedle' release party
October 21, 2008 at 7:09 PM ET
Jeremy HPANA (via Various)

J.K. Rowling, Harry Potter, Beedle the Bard,
---
J.K. Rowling will be hosting a Tales of Beedle the Bard tea party in Scotland on the same day the book release, which will include a reading from the book.
Author J.K. Rowling is to read from one of the original handwritten fairytales which were mentioned in her last book, Harry Potter and the Deathly Hallows.
The Tales of Beedle the Bard, published by CHLG on December 4th, will reveal the four remaining tales, translated from the original runes by Hermione Granger, alongside notes by Professor Dumbledore and illustrations by J.K. Rowling.
To read the full article, click here

.
Additionally, Scholastic, the U.S. publisher of the Harry Potter series has announced a children's essay contest, with five grand prizes for a trip for two to JKR's Beedle the Bard tea party on December 4th in Scotland.
...fans are asked to write an essay of 200 words or less describing how they have helped others. Because so many kids today are taking an interest in helping others in their schools, communities and around the world, the Scholastic contest gives them an opportunity to write about causes they care about and what they've done to make a difference. The contest begins today and entries must be received by 5 p.m. EST on October 30.
Scholastic has also announced that an original copy of Beedle the Bard will be on display from December 5th to January 4th at The New York Public Library's Humanities and Social Sciences Library at Fifth Avenue and 42nd Street in New York City. The original copy was graciously lended to the library by Scholastic's Arthur Levine, who edited all seven Potter books.
Thanks to MuggleNet

for the additional news.