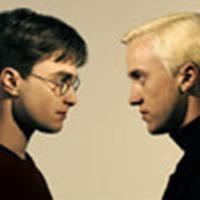 'EW' photo out-take
Ralph Fiennes gives new interview; out-takes from 'EW' photo shoot
September 9, 2008 at 10:17 AM ET
Geri HPANA (via Various)

harry potter and the half-blood prince movie, half-blood prince movie, hbp movie, ralph fiennes
---
In a new interview with Entertainment Weekly, Ralph Fiennes (Voldemort in the Harry Potter films) discusses

his wish to return for the last movie and how he prepares to play a baddie.
That's actually the hardest to do because you have to personify evil, and there's such a history of clichés and villains and monsters. You've got to struggle not to play all the obvious notes. And with such extreme makeup, such an extreme look - that's the challenge. Also, the style of the movies is so strong. The movie itself is its own machine, and you've got to fulfill a function of a bigger machine. It would be good to keep the sense of some kind of real psychology going on, even in all the special effects and everything. I'm not officially contracted to the last ones, but I think that's in the cards. I want to do it. It's just that they haven't got a script yet, so the deal side of it isn't in place. But the indications are that it'll happen.
On a related note you can now view

some out-takes from the Half-Blood Prince Entertainment Weekly photo shoot.
Thanks to the SnitchSeeker

and Oclumencia

for the links.