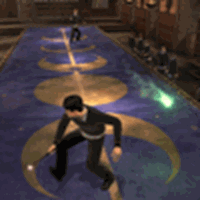 'HBP' video game
'HBP' video game to be released with movie
September 8, 2008 at 7:17 PM ET
Geri Yahoo! News (via AP via Yahoo! Finance)

harry potter and the half-blood prince vide game, half-blood prince video game, hbp video game, ea games
---
As expected, news today comes from EA Games and Warner Bros. Interactive Entertainment that the release of the Harry Potter and the Half-Blood Prince video game will coincide

with the release of the movie next summer.
Robert Nashak, Vice President EA Casual Studios said:
We're excited about the Harry Potter and the Half-Blood Prince video game in development and its high level of authenticity and playability. We are creating an immersive game experience that Potter fans around the world will really enjoy playing as they fly and duel their way through the story of the film. The game will feature new Wii gestures and increased gameplay capabilities across all of the platforms.
Producer David Heyman commented:
We have enjoyed a wonderful partnership with EA in collaborating on the videogames for all of the Harry Potter films. The visual look of the game for Harry Potter and the Half-Blood Prince is incredibly authentic to the film and will provide a truly compelling experience for everyone who plays.
The game will be released for the Wii™, PLAYSTATION®3 computer entertainment system, Xbox 360® video game and entertainment system, PlayStation®2 computer entertainment system, PSP® (PlayStation®Portable) system, Nintendo DS™, Windows PC, Macintosh and mobile devices.