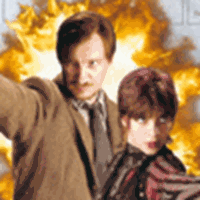 Lupin & Tonks
Numerous scans from 'Prince' calendar
September 3, 2008 at 11:59 AM ET
Geri HPANA (via Various)

harry potter and the half-blood prince merchandise, half-blood prince merchandise, hbp merchandise
---
Scans from the 2009 Harry Potter and the Half-Blood Prince calendar just keep pouring in. The new images feature Ron, Lavender Brown, Harry, Lupin and Mr. and Mrs. Weasley, the Burrow and many more.
You see the scans at the following sites:
Many thanks to UHP

, RG.net

via Stephanie and HBPMovies

for all the scans.