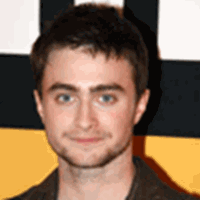 Daniel Radcliffe
Update: Dan answers questions at 'TimesTalks' event
August 20, 2008 at 7:56 AM ET
Geri HPANA (via SnitchSeeker)

Daniel radcliffe, dan radcliffe, equus, harry potter and the half-blood prince movie, half-blood prince movie, deathly hallows movie
---
We previously

told you that Harry Potter actor Daniel Radcliffe was taking part in the New York Times staff-moderated TimesTalks event

in New York City on Tuesday, August 19th. Last night at the event Dan spoke of many things, including Equus, Half-Blood Prince, Deathly Hallows, fellow actors and much more.
Some snippets from the event

:
He prepared for 18 months for Equus, though in the first two months was worried that he wasn't going to be able to get the entire performance down (afraid he was going to be "awful"); said that with the help of director Thea Sharrock and his costars, if he messed up, he "could not be messing up with better people.
He mentioned how surprised he was at the standing ovation received while doing his West End Equus stint, because it was not something done very often in Britain, but that in the US people just get up and clap even before a play begins, which he was somewhat astounded by.
Dan talks about a particular incident on the Half-Blood Prince set, where Rupert had his first kiss with Jessie, and Dan was in the background of the scene laughing and trying to get Rupert to break out from character and laugh as well.
Deathly Hallows will go as planned, despite the Half-Blood Prince move, where it will start production February 2009 and will shoot for around 14 months. Dan also mentions potential future projects, including the Dan Eldon biopic, though he said that it's too distant in the future to consider.
The good and band things about New York City: he said he's constantly surprised by all the noise in the city, and the fact that buildings are being built left and right. He mentioned an encounter at Barnes & Noble bookstore, where when he went to buy some things, the cashier did not show recognition towards him until the very end, where they asked when the play would start (which made him happy). Dan did complain about the horns and alarms that blared in the city, however, and took note of the new signs around that were fining those who kept blowing their car horns.
He said with Deathly Hallows, he is looking forward to the walk through the forest (chapter 34), rather than the fighting sequences; and that in the script for the film Sirius is in it, so there is a chance he will have another scene with Gary Oldman.
You can view pictures from the event courtesy of Getty Images

and Film Magic

.
UPDATE: You can read two additional articles here

and here

from MTV from the event.