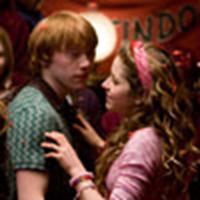 Ron and Lavender
More 'Prince' photos hit the web
August 15, 2008 at 11:48 AM ET
Geri HPANA

harry potter and the half-blood prince movie, half-blood prince movie, hbp movie
---
Well they just keep coming.
To add to our previous news posts on new images from the Harry Potter and Half-Blood Prince movie an additional four new ones

featuring Ron and Lavender, Harry and Ginny, Bellatrix and Harry and Dumbledore have appeared online.
Thanks to Potterish

via Victor for the link.