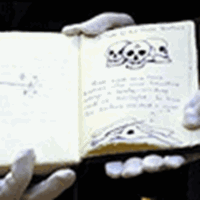 Original 'Tales'
Update: JKR's 'Beedle the Bard' to be published in December
July 31, 2008 at 1:45 PM ET
Geri BBC

jk rowling, jkr, jo rowling, harry potter author, hp author, tales of the beedle the bard, beedle the bard, children's high level group, CHLG
---
JK Rowling's book The Tales of Beedle the Bard is set to be published

for fans on December 4, 2008.
According to Ms. Rowling's web site the proceeds of the sale will benefit the Children's High Level Group

which she co-founded in 2005.
Says Rowling

:
There was understandable disappointment among Harry Potter fans when only one copy of The Tales of Beedle the Bard was offered to the public last December. I am therefore delighted to announce that, thanks to the generous support of Bloomsbury, Scholastic and Amazon (who bought the handwritten copy at auction) - and with the blessing of the wonderful people who own the other six original books - The Tales of Beedle the Bard will now be widely available to all Harry Potter fans. Royalties will be donated to the Children's High Level Group, to benefit institutionalised children in desperate need of a voice. The new edition will include the Tales
You can pre-order the collector's edition:
UPDATE: You can now read additional

information on what will be in the book thanks to Scholastic, the U.S. publishers of the Harry Potter series.
Thanks to everyone who emailed.