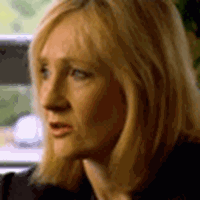 J.K. Rowling
JKR discusses regret and MS in new documentary
July 22, 2008 at 10:19 AM ET
Geri Yahoo! News (via Press Assoc. via Yahoo! UK & Ireland News)

jk rowling, jkr, jo rowling, harry potter author, hp author, multiple sclerosis society scotland
---
J.K. Rowling, author of the Harry Potter series, gave a new interview

for a documentary on Multiple Sclerosis (MS) which is scheduled to air Wednesday on BBC Scotland.
In the documentary Ms. Rowling, who is the patron of the Multiple Sclerosis Society Scotland

, discusses the fact that she regrets not telling her mother about her writing and that the level of funding available for MS research is inadequate.
You can view a snippet of the interview here

. The documentary Hidden Epidemic: The truth about MS airs on BBC One Scotland Wednesday at 22:45 BST.