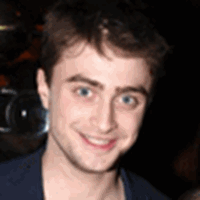 Daniel Racliffe
Dan Radcliffe comments on 'HBP' in new interview
July 1, 2008 at 8:33 PM ET
Geri HPANA (via News Tip)

harry potter and the half-blood prince movie, half-blood prince movie, hbp movie, daniel radcliffe, dan radcliffe
---
In a new interview

Harry Potter actor Daniel Radcliffe compares Half-Blood Prince to the 1996 film Trainspotting.
Dan comments:
There's a fair amount of sexual energy and drug parallels. We have a couple of Trainspotting moments.
That's two films I never thought would be mentioned in the same breath.
Meanwhile director David Yates says:
We're opening with a big attack. We'll bring a major London landmark crashing down.
The original interview will appear in Empire

magazine and thanks to the SnitchSeeker

for the news.