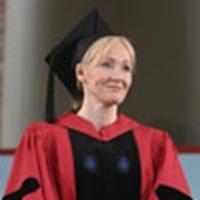 JKR at Harvard
Rowling gives Commencement address at Harvard; watch via the web
June 5, 2008 at 7:58 AM ET
Geri HPANA (via Various)

jkr, j.k. rowling, jo rowling, harry potter series
---
We previously

told you that Harry Potter author J.K. Rowling would be the principal speaker at this year's Harvard Commencement ceremony, where she will also receive an honorary degree and for those not lucky to attend you will be able to watch the event via the school's web site

starting at 2:15 p.m. this afternoon. Video and text of J.K.'s speech will appear here

later this evening.
JKR arrived

at Harvard yesterday evening to attend a reception at Loeb House before the annual dinner for honorary degree candidates. Professor Maria Tatar, who teaches a course on childhood, said:
Just because she's not doing the nitty-gritty of the economy or politics doesn't mean that she's not bringing something to the table that's very powerful.
Additionally, it is being reported

that fans are paying up to $50 for "free" tickets on the black market to hear J.K. Rowling speak at Harvard.
Thanks to TLC

and the Harvard Crimson

for the news.
UPDATE: Pictures from the event can be seen below:
UPDATE II:A little snippet from Jo's speech can be read below and you can go here

to read the whole thing:
Actually, I have wracked my mind and heart for what I ought to say to you today. I have asked myself what I wish I had known at my own graduation, and what important lessons I have learned in the 21 years that has expired between that day and this.
I have come up with two answers. On this wonderful day when we are gathered together to celebrate your academic success, I have decided to talk to you about the benefits of failure. And as you stand on the threshold of what is sometimes called 'real life', I want to extol the crucial importance of imagination.
Part 1:
Part 2: